Through our experience in the manufacture of machines, our design office and the entire ERMA team will assist you in the definition and realization of your specific tooling, whether for machines of our manufacture or not.
Thanks to our brand new LAB, we will be able to ensure real-life tests, and thus guarantee you the best possible result on this key function in the painting of your parts.
From your 2D or 3D files of the treated parts, our engineering department will design the most adapted tools by taking into account the following constraints:
Zone savings on piecework
Centering of the part
Part holding
Quick change
Cleaning
It is because the tooling is an inseparable component of the success and use of a machine but also an important part of the price of the finished part that their design and manufacture requires an applicator - manufacturer know-how.
That is why ERMA, designer and manufacturer of high speed lines, will deliver the most economical tooling adapted to your needs.
Mass in kilograms of the largest tooling Designed by Erma Concept
Tooling mass in a cosmetic glass drying oven
Erma Concept
Composition of the tooling offer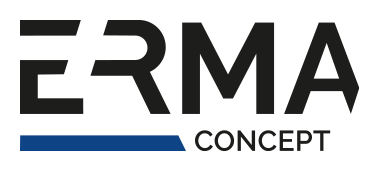 Would you like to entrust us with the design of your tools?
Contact our experts to present your needs, we will accompany you from design to installation.
Erma Concept
Composition of the tooling offer
From 2D or 3D files of your parts, taking into account dimensional constraints, areas to be spared and maintenance of the tooling, our design office develops a design optimized to your application.
To do this we use different materials:
Brass
Stainless steel
Steel
Peek loaded
Injected synthetic materials
The following constraints are systematically integrated into the study:
Mass of the tools
Holding / centering of parts
Temperature resistance
Heat capacity
Versatility
Price